Appliance in education
In-Depth Powerpoint remote shows the content on projector synchronously.The functions of annotation, highlight,and zoom, spot light, laser pointer can help to build active classroom ambience, strengthen audience's unstanding to the subject.For further communication, the teacher can use the blackboard function to write more for details. With this function, traditional blackboard can be taken out and the pollution from the chalk dust can be eliminated.
The teaching video recording and management system has the function of teaching video live broadcast. The video can also be stored to meet the requirements of such demand as video review, network course making and teaching assessment. The content of video can contain three parts: screen projection, action expression of teacher and students' status.

Our advantages on these video:
All action of teaching process including such action as annotation, writing, blackboard, highlight, zoom, pointer and so on can be recorded through screen recording. The video is more real and vivid.

Students can look through or review the videos at any time. Teachers can also retrospect or summarize their teaching process through video. These will help to improve teaching quality.

This system gives administrators more convenience to monitor or evaluate the teaching through video or liv broadcast.

As a showing platform for the good course, it helps the good teaching resources to be study by more people and thus helps to improve teaching quality.

The teaching videos are good materials for online courses.

The compression ratio and resolution are high by means of screen record. The smaller size can decrease the requirement of storage and transmit.

It is more useful in the rebuilding of current multi-media classroom.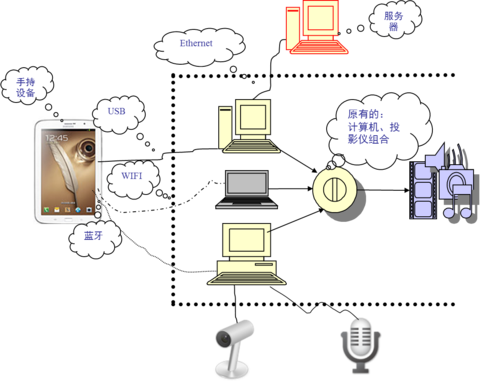 Appliance in training
The above system can also be used in training organizations with small adjustment. In-Depth PowerPoint remote helps students to understand training contents thoroughly. The video recording and management system can help to realize live broadcast. The stored video can meet requirement of review, network course making and remote training.
Appliance in meeting
When the system is used in conferencing system, live broadcast function can make audience feel Immersive. At the same time, the video can be stored and saved as a formal document.